Did you know?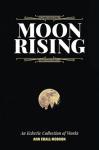 Ann Edall-Robson has been selected as a finalist for the upcoming Airdrie Mayor's Night of the Arts Awards in the category of Alberta College of Art and Design Emerging Artist.
The celebration will be held on January 30th,at Bert Church Theatre in Airdrie, Alberta.
Tickets can be purchased on the Creative Airdrie site or via Ticket Pro and is the perfect stocking stuffer.
--------------------------------------------------------------------------------------------------
Moon Rising, written by Canadian Author, Ann Edall-Robson offers page after page that will take you to those places you wish you were at or wish you could go to.
Through photographs, verse, insightful musings, anecdotes, and short stories, Moon Rising takes a luxuriant ramble over a broad range of human emotions, evoking lightning bolts of empathy and recognition.
Gorgeous photographs are perfectly paired with deftly crafted text to create a visceral experience of the sights, sounds, and feelings of the human experience and rural life in particular.
With richly sensory detail, humour, passion, and keen poetic insight, the photographs, verse, and prose of Moon Rising offer a delicious smorgasbord of emotional highs and lows.
For more information on what Ann has been doing, follow us on DAKATAMA's Facebook page and Blog.